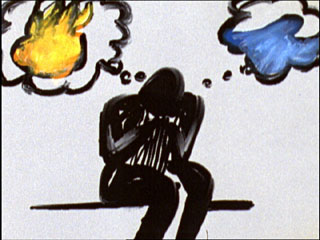 (click to play)
Available on: youtube.com | archive.org
>> #2 in a series of 6
Enoch receives a premonition of disaster, so he sets out to collect as many books as he can find, to preserve the knowledge of the world. But, lacking reliable divine guidance, all his careful preparations come down to a straight-ahead, all-or-nothing gamble….
format: DV video
software: Commotion, Final Cut, Audition, Photoshop
Los Angeles, 2003.

Broadcast on CBC TV 2005.